English
हिन्दी
മലയാളം
मराठी
தமிழ்
తెలుగు
Love You To Eternity Chapter 5 – Nixatube Updates
Chapter 5
The chapter begins with everyone enjoying their lunch while Naira is lost in her thoughts.
naira pov
Karthik tomorrow is Ashu's birthday, won't you come for me it's okay if you also come in a dream but please come Tomorrow our akshu will be 2 years old kartik it's great isn't it but kartik you know without you i will not be able to enjoy this moment fully .. leave it for akshu kartik somehow i understood kairav ​​that you Ho not with us now but Akshu what about her kartik please come… and yes now she will not have hadi in your kebab as you call it no but life is so unpredictable isn't it. his thoughts were broken with gold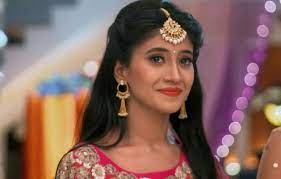 naira ends pov
"Where have you lost Naira?"asked for gold
"No mom nothing"Naira smiled and said
"Oh then will you lie to me now?",Gold . he said
"No mother, I was just thinking of Ashu and nothing else",Nair said
"Naira, are you okay?"concerned swarna asked
"Yeah mom I'm fine",Naira said smiling.
"Do you know my niece Riya?",Surekha said
"Yes Surekha she is a financial manager isn't she?",asked for gold
"Yeah it's sad she got divorced 1 month ago",Surekha said with a sad smile
"Sadly",Swarna said while Naira thought listening to the conversation;
naira pov
Hmm it's true that life is unpredictable what I'm longing for I won't get it and Riya didn't get what she wanted yet I think everyone in the world is sad no one is happy in this world. Kairav ​​breaks Naira's tension
naira ends pov
"Mama Tomorrow is Ashu's birthday, will Mihir uncle also come? ",Kairav ​​said while Naira had no answer. All the Goenkas understood the situation and kept silent but to their surprise.
"Yes baby he will come he is your friend, isn't he"Recalling what Kartik had told her, Naira said that Kairav ​​considers Mihir a friend. While all Goenkas had smiles on their faces Manish and Swarna were upset thinking about Naira's turmoil. While Kairav ​​was bouncing around the house excitedly with yesterday's excitement.
It was the night before Aakhu's birthday. The one whose enthusiasm was at its peak was Kairav. He was jumping around and telling people that tomorrow Aakhu will be 2 years old. While Naira was happy to see Kairav's enthusiasm, she also remembered the day when Akshu was born and Kartik fainted in the operation theatre. Trio: Naira, Kairav ​​and Akshu were playing in the room
"Look mama, now Akshu will call me brother and I will feel very good",karavi said
"Yeah baby it'll be cool I'm sure you'll be the best brother",Nair said
"And you are the best mother",Said Kairav ​​hugged Naira
"thank you baby",Naira hugs him back and asks him to give a kiss on his cheeks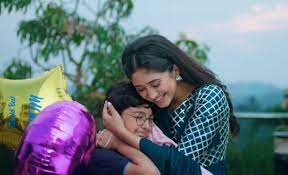 While Akshu started crying, Kairav ​​started lovingly asking her to stop crying while Naira decorated both of them but Akshu couldn't stop crying. Naira lays him on the bed and Kairav ​​is thinking what Naira is going to do and to his surprise Naira sings a lullaby on which Kairav ​​also laughs what Naira sang
🎶🎶
Sweety cutie Oh my beauty beauty, sweetie cutie
Papa ki tu hai heart beat sweety cutie
Mama wants to be like sweetie cutie
You are papa's princess, you have no rule for you
Never heard of mama's lodi, she is too old
sweetie cutie oh my sweet cutie sweetie
🎶🎶
When Kairav ​​was laughing, Akshu also stopped crying, while Naira had tears in her eyes because whenever she cried, the lullaby Kartik sang to Akshu.
"Mama where did you learn this lullaby?",asked Kairav
"You papa taught me Kairav, you know Kartik used to sing it when Aksha was in my stomach and she used to kick in that moment, even during delivery she used to sing it,shelp naira with moist eyes
While Kairav ​​did not respond but immediately hugged Naira.
"What happened son, are you remembering papa?",asked Naira
"Yeah mama why did he leave us mama I miss him",Kairav ​​said crying
"No baby don't cry like this good come with me",Naira said wiping Kairav's tears.
Naira made Kairav ​​sit on the balcony and he pointed towards a star and said
"You know Kairav ​​whenever you miss papa come here even I come here too. You see that star is very beautiful isn't it if you miss your papa then come here And talk to that star. See, Lord Kairav ​​call only people who are good and Karthik was the best.Naira said looking up at the sky, while Kairav ​​hugged Naira and said hi papa to which Naira smiled. The pair was all decorated by the Goenkas. Naira and Kairav ​​were facing them. There were tears in all of their eyes. The day ends for the family to remember Kartik and get ready to celebrate Kartik's birthday.
Next day was Akshu's birthday, they all wished her, she couldn't say thank you but she was stunned when she got gifts from everyone. Whereas Mihir Kapoor decided to join the celebrations in the evening due to work. While Naira was missing Kartik, she was behind with a bouquet in the hands of the person standing at the door. She came close to Naira and patted her shoulder while Naira saw her but could not recognize her.
"Oho !!",the person said
"I'm sorry but I don't recognize you"Nair said
"Oh never mind I'll introduce myself I'm Rhea", said the person (yes guys it's Riya)
"Oh Riya you are in the finance manager as far as I know aunty's niece isn't it?",asked Naira
"Yes and you are Naira if I am not wrong",Riya said
"Yes welcome to our house",Naira hugs him and says
"Thank you ",Said Riya is walking towards Akshu and is wishing her birthday from behind Surekha and everyone congratulates each other. While they have a lot of chit chat but suddenly Riya asks a question to Naira which tears her down.
"Where is naira karthik he is your husband and you have to tell me about your love story also bua told me that you guys are made for each other"Riya said while all the Goenkas had a sad face, for Naira it was like tears can sweep away any minute but she stopped them.
"That's actually Rhea Karthik..umm she's dead",Said Naira stopped her tears while looking down while Riya was shocked and immediately ran and hugged Naira
"I'm sorry",Riya hugs him and says
"Okay Riya",Naira said while hugging her back. While all the Goenkas smiled at their bonding which they developed in mere minutes. Naira nods herself and runs upstairs and opens the diary and draws another line with tears in her eyes. When Swarna and Riya were talking about stuff in their room.
"I'm so sorry Auntie, I couldn't imagine what your family had to go through especially Naira",Riya said
"It's OK Beta",Gold . he said
"Auntie, can I ask you something if you don't mind?",asked Riya
"Yeah sure son"Gold . he said
"Actually aunty I wanted to know Kartik Naira's love story I have heard so many compliments for him I would have asked Naira but I don't want to make her sad",Riya said
"Riya there love story was very extraordinary, she had many love story in one love story, they had fights but they always sorted it out. They were really fighting kids but yes their love was purest. Naira is not visible but I know she is very sad and broken inside she is living only for her kids Rhea she is broken she still cannot understand the fact that Kartik is leaving us Gone… especially from yesterday's incident…" ,Swarna cried but she stopped as she realized what she was going to say next.
"What incident Aunty",asked Riya
"Actually Riya was talking about Maaji Naira's second marriage yesterday, especially to Mihir",Gold . he said
"Second marriage? And who is Mihir?",asked Riya
"He is a reason for Kartik and Naira to be separated for 5 years, he is a reason why Naira and Kairav ​​stay alone in Goa (Swarna tells him about it),"Gold . he said
"How can you guys do this, no offense but I can understand Naira's pain, she is not ready to go with aunty, no one would want their love to last, even ​That I am divorced aunt, but thought of second marriage is right. Too much. Please don't force her aunt. It's not good",Riya says while Swarna tells her that they will not force her and they love Naira just like their daughter.
Everyone was happy in the evening but Naira was just carrying a fake smile, of course she was missing Kartik like hell today. They cut the cake while Mihir also joins them and Kairav ​​and Mihir play football for a while while Naira sadly goes to the room with Akshu to make her sleep.
"It only takes a beautiful fake smile to hide a wounded soul and they will never notice how broken you really are"

********************* *************
Oh look!! That was a tall one, wasn't it!! See you in the next chapter!! Please vote and comment!! looking forward to some comments

Co-author: Ananya Gugliani 2

Lots of love goodbye!!